Houston Contract Litigation Lawyer
Houston Contract Drafting & Review Attorney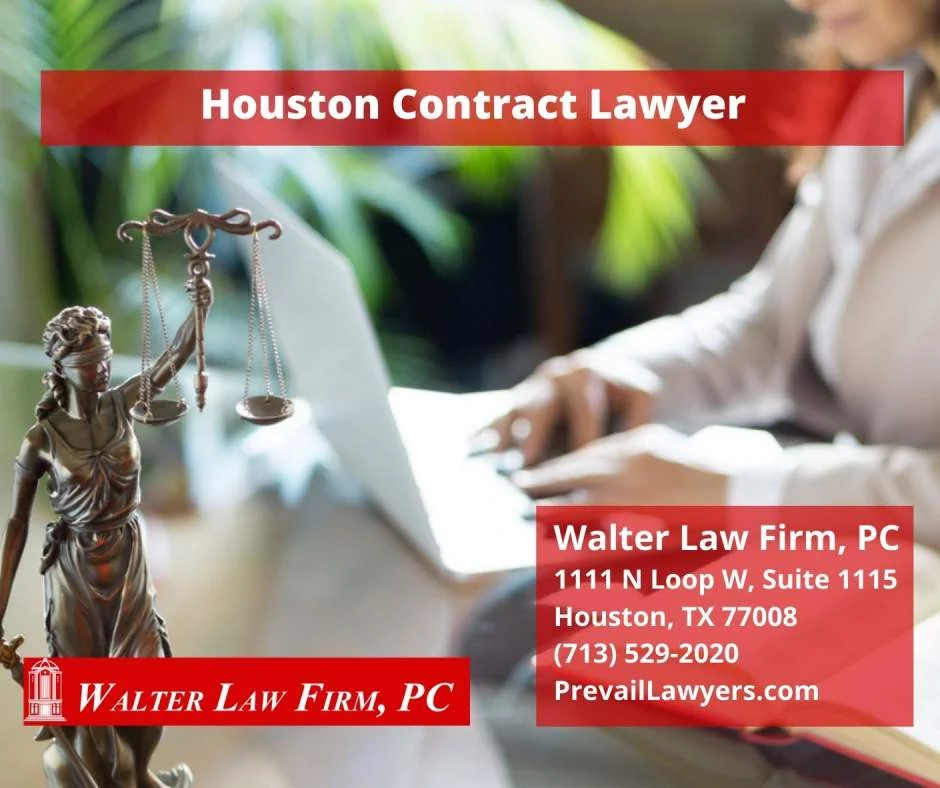 Looking for lawyers who specialize in contracts?
Walter Law Firm, PC focuses on contract law and business litigation. Call (713) 529-2020 to speak to one of our Houston Business Litigation Attorney today.
To a lawyer, a "contract" lawyer refers to a lawyer who performs transactional work in business matters.
For example, preparing contracts, leases, lending documents, partnership agreements, employment agreements, and other types of business agreements.
Contract litigation, however, means a dispute involving a contract that must be resolved in court.
That can include such matters as…
collections and disputes between business owners,
commercial or residential evictions, and
claims of fraud,
deceptive trade practices.
If you have a contract dispute, give us a call because…
It Feels Good to Prevail!
Find Breach of Contract Attorney Near Me
Houston Breach of Contract Lawyers
Walter Law Firm, PC
1111 N Loop W, Suite 1115
Houston, TX 77008
(713) 529-2020
Law Firm Reviews
"…have never been disappointed…" – Chuck S.
We've known Teri for 20 years or so, have entrusted her legal advice and work several times and have never been disappointed! She is thorough and professional. She has referred us to other legal professionals if she feels like they are better suited for the job, and we have never been disappointed with her referrals. I would highly recommend her! – Review on Google
"…the case is under control and in good hands…" – Robert W.
I've been involved in a confusing, frustrating lawsuit for over 3 years. When I took the case to Teri Walter, she organized it, analyzed it, formulated a plan and explained it all to me in plain English. I'm finally confident that the case is under control and I'm in good hands. – Review on Google
Houston Contract Lawyer FAQ
How much does a contract lawyer cost?
Typical the cost will vary depending on the nature of the contract and the complexity of the dispute, litigation, or business matter involved. The experience of the attorney may also play into the determination of cost. If you are facing a contract dispute, contract litigation, or need a contract reviewed / drafter in Texas, then give us a call for a quick consult.
What's the cost to have a lawyer write or review my contract?
In most cases it can be cost beneficial to hire an attorney to review contracts, or write contracts, that are related to your business dealings. A competent contract litigation attorney can help you avoid costly legal mistakes related to inadequate contract stipulations. Give our office a call today. A clear contract can help you avoid certain breach of contract scenarios.
When can I sue someone for breach of contract?
There are certain legal elements that must be met before you can be successful in a lawsuit for breach of contract. Our civil trial and business attorneys can help you with a breach of contract lawsuit, and we can also help you determine if you have a good case, or the likelihood that your lawsuit will prevail.