Business Litigation Attorney in Houston, TX
Business Dispute & Commercial Litigation Attorneys
Call the Houston Business Litigation Lawyers at Walter Law Firm, PC (713) 529-2020. Texas has over 100,000 lawyers, and approximately one third of them practice in Houston or the surrounding areas. Your search can be simplified by looking for a lawyer who practices in the area where you need assistance.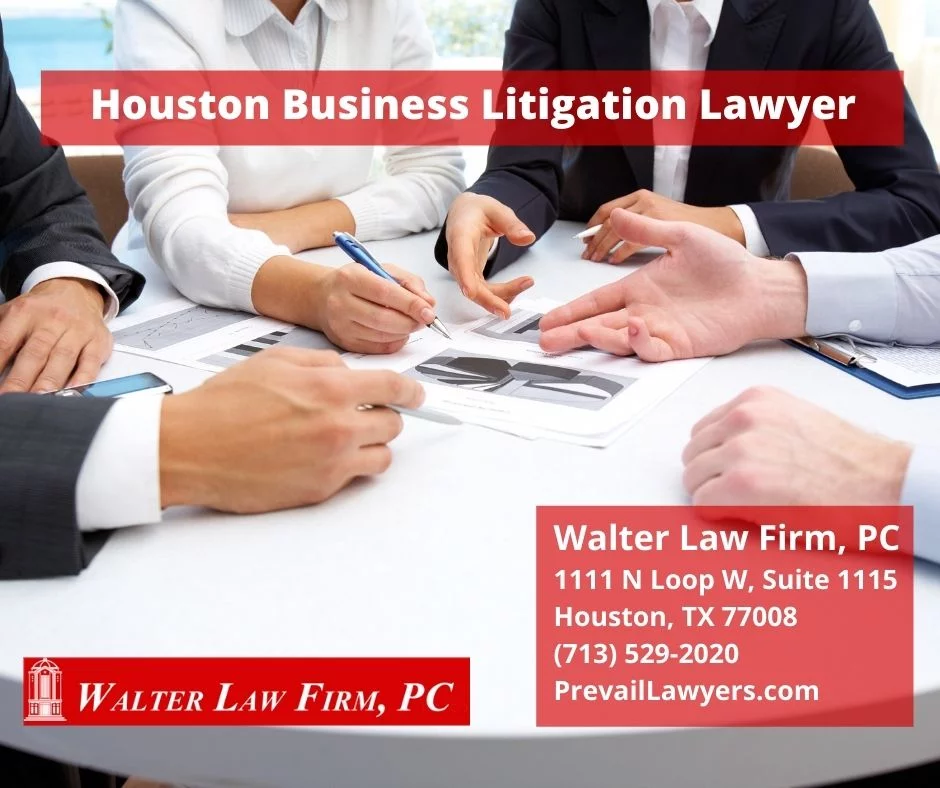 Houston Trial Attorneys
Houston Business Dispute Attorney Teri Walter is Board Certified, Civil Trial Law – Texas Board of Legal Specialization.
Lawyers divide themselves broadly into two groups – litigation and transactional.
Litigation involves any kind of claim that is, or is likely to, end up in court, in mediation, or in arbitration, and includes specialized areas such as criminal law, family law, bankruptcy, some tax work, and probate employment, or real estate litigation.
All types of litigation which are not criminal are considered part of "civil litigation." Transactional lawyers do everything else – preparing contracts and lending agreements, setting up entities, preparing wills, deeds, leases and work before regulatory agencies.
While most litigators will do a limited amount of transactional work, many transactional attorneys rightly want nothing to do with litigation.
Your Houston Business Attorney
Why You Need A Houston Commercial Litigation Lawyer By Your Side
Within civil litigation, some lawyers who handle only a certain type of case, such as personal injury or family law, while others have a more general litigation practice. Business litigation is another subset, but is a broad term, and can involve a wide variety of issues not encountered in other types of practices, such as real estate law, collections, breach of contract, fraud, violation of the Deceptive Trade Practices Act, negligence, declaratory judgments, tortious interference with contract, conversion and theft of trade secrets. Many cases will have issues in more than one of these areas.
Large & Small Business Litigation Lawyer
Do All Commercial Litigation Cases Go to Trial?
Most Houston business dispute attorneys are happy to talk to you about your situation and provide guidance about the kind of lawyer best suited to handle your issue, and to provide a referral if the matter is not within their scope of experience.
If you need a lawyer, give us a call to discuss your situation because
It Feels Good to Prevail!
Business Litigation Lawyer Reviews
"One of the best…" – Kathy H.
Teri Walter is one of the best attorneys I have ever hired. She assessed our situation at lightening speed and presented our options in clear, concise terms. She is far more accessible and responsive than 99% of other attorneys. If you find yourself needing an attorney for recurring business issues or occasional personal issues, Ms. Walter is the one you want in your corner. –Google Review
"Always there for us…" – JL
Teri is always there for us with spot-on legal advice in matters big or small! Highly recommended! –Google Review
"Results were excellent…" – P. Attal
I have hired Teri Walter's law firm for a dispute with a commercial tenant.The case was settled very professionally outside the court,during a one time mediation.The results were excellent and all parties involved obtained what they wanted.I definitely would recommend her firm for complicated litigation cases,like mine was. –Google Review
Litigation Law Firm FAQ
How much does a commercial litigation lawyer cost?
Business litigation lawyers and commercial litigation attorneys will charge different amounts based on the complexity of the case and the amount of experience the law firm has. Of course, there are some instances when a civil trial lawyer will take a case on a contingency fee basis. This means that in that specific situation, the lawyer only gets paid if the client wins. However, every case is different and there is no way to know exactly how much you might pay in lawyer fees without first contacting an attorney. Call our office today for a consultation and cost estimate.
Can a business dispute lawyer help me?
If you are involved in a business related law suit...if you need to sue some business, or someone is suing your business, then you should contact a business litigation lawyer like Walter Law Firm, PC. Many times a civil trial lawyer can help you avoid a lawsuit altogether. Call our office for a quick consult.
Can I protect personal assets from business lawsuits?
It is possible to protect your personal assets from a lawsuit against your business. However, you need to consult with a business litigation attorney immediately. Typically, an entity structure, like an LLC, corporation, or some other business entity is designed to shield your personal assets from business lawsuits. Call our office immediately to protect your assets.
Who is a small business litigation lawyer in Houston, Tx?
Attorney Teri Walter is Board Certified in Civil Trial Law by the Texas Board of Legal Specialization. Walter Law Firm, PC focuses on business litigation and commercial litigation, helping large and small businesses protect themselves from and litigate small business lawsuits. Call our office immediately.
Can you help with contract negotiations?
Walter Law Firm, PC has experience with all manner of contract negotiations, contract disputes, and contract litigation. Call our commercial litigation lawyers today.
Find Houston Business Litigation Lawyers Near Me